Whether or not you think of yourself as a writer, there's a book in you. Each of us gathers from our life a unique set of skills and knowledge that can be organized and packaged as a book. Make no mistake: there are literally thousands of people out there who will pay you for your special brand of expertise -- the everyday knowledge that you probably take for granted.

Let me give you a recent example: Just two weeks ago, my husband and I hired a "contractor" to pour a concrete walkway and patio in our backyard. The work turned out amateurish -- the final result was concrete that was full of birdbaths and a grade that caused water to drain against the foundation of our house. Obviously, this man had misrepresented himself. In fact, we found out later that he'd lied about being a contractor.

Now imagine that I'd come across an book called, "Seven Ways to Make Sure Your Contractor is the Right Man for the Job." Do you think I'd pay $20 for it?

You bet I would. I'd purchase that ebook in a heartbeat and I wouldn't mind paying $20 for someone's expertise if it might prevent another ordeal like the one I'm currently going through. Wouldn't you rather pay $20 for someone's expertise, than $2000.00 for a lawyer?

Now, sit back and think about what YOU know. What is your area of expertise? What do you do day in and day out, probably without even thinking about it? Maybe you run a successful online business. Maybe you run a daycare business or a catering company. Maybe you publish a list with thousands of subscribers and sell out your ad inventory each month in advance. Perhaps you know ten secrets about building a backyard waterfall or how a golfer can improve his swing. Maybe you've cared for a dying parent or started a successful second career after your children left the nest.

Whatever you've done, you have a unique brand of expertise that people will gladly pay you for. With a little bit of thought, you can probably jot down ten tips that will show people how to do what you've done while saving them time, money and headaches (not to mention heartaches).

Can you take these tips and turn them into a book that people will buy? You bet you can. You've walked the road that your readers want to walk. You know the ins and outs. You know the highs and lows. You know the pitfalls to avoid.

Bottom line? You can save your readers time, money and headaches. Because of this, people will pay you for the knowledge that's sitting right inside your brain. And all you have to do is pull it out.

Okay, you say, I'm convinced -- I can write and self-publish a book. But what about rejection slips? And once I write the book, don't printers, publishers and distributors make most of the profits?



The answer is yes and no. Yes if you're thinking about the traditional path of publishing. But I'm here to tell you that there's a better way.

Much better. Self-publish on the web. Ever considered it? You won't have to worry about rejection slips, editors, publishers or missed profits.

Think about it. You create the product, you control the content and you keep all the profits. How much better can it get?

It gets MUCH better. As an author, my greatest satisfaction comes from selling the wisdom that's come from my experience. This is my own special gift. You have a similar gift inside of you and you can offer it for sale on the web.

The greatest feeling comes from selling what you know. And there's no easier sale than that.

As you sell your ebooks, you'll create a customer list. Then when you come out with your next infoproduct (and the next and the next next), your credibility will attract orders from your existing customer base. And word of your reputation will ripple out ...

Self-publishing ebooks on the web is straightforward, especially if you follow the step-by-step advice of those who are successfully selling their own infoproducts and making thousands of dollars per week.

To get started on your own self-publishing venture, subscribe to this free five day Infoproducts Master Course: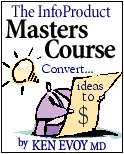 Take what's right between your ears and sell it on the web. Click here and send a blank e-mail to receive The InfoProduct Masters course... It's an intensive 5-Day e-mail course on creating, producing and online-selling your very own infoproduct. This comprehensive mini-course offers you the expertise of self-published authors Monique Harris and Ken Evoy who are successfully selling their Infoproducts on the web. In this course, you'll learn how to create an ebook in ten easy steps.

Other resources and articles:





Uncertain about your home decorating skills? This unique series of home decorating books will help you create the warm, inviting sanctuary you've always envisioned. Even if you fear you have no decorating sense, this guide will teach how to put together a beautiful look and feel for your home.





Hours of operation: Monday-Friday 11:00-4:00
Please note: Our office and studio are not open to the public.




Kokopelli's Treasures
5231 Rose Hill Ct
Reno, NV 89502-7785 U.S.A.
(775) 856-4299

We are an online company. If you contact us by phone, please leave a message and we will return your call by the next business day. Although we are happy to answer your questions, we do not take orders over the phone. If you would like to fax your order, please fax all pertinent information including contact and credit card info to 775-856-4277.

We do not accept rush orders. Please always check the availability of the item you are ordering. Much of our offering is custom made to order. Call us with any questions.

We add new items frequently. Please bookmark our site and check back frequently.



Didn't find the southwest home lighting, decor or Native American themed items you were looking for? Search our site or the web below:







Copyright © 1999-2006 Kokopelli's Treasures. All rights reserved.

Home Lighting Southwest Home Decor Southwest Art Kokopelli Novelties Family MATTERS! Secrets of Life & Culture Meet the Artists Customer Testimonials Self-Publish Your Ebook Personal Growth About Us Site Sell Links Financial Services Store Policies Search Index Contact Us